The Flegmann family was in the wine-making business for generations in a small town called Mád (pronounced Maad) in the Tokay region of Hungary. Our father, Mr. Tibor Flegmann A"H, was born into wine-making and frequently spoke about how he used to spend his free time in the wine cellars and crush the family's grapes with his feet. The family's wine was considered the highest quality; it was enjoyed by the most renowned Hassidic masters, as well as the Rothchild Family and even Kaiser Franz Joseph. Our father spoke lovingly about how he would bring the wine to the town's very prominent Rabbi, Rav Mordechai Leib Winkler (the Levushei Mordechai,) on Erev Pesach for his arba kosos. Such was the importance of the wine business in their lives.
After the devastation of the Holocaust when so much was lost, from our father's will to rebuild was born a dream to revive the Flegmann wine label. Late in his life, this became a reality, as he looked to the Judean Hills to be the new home for Flegmann wine. Unfortunately, Mr. Tibor Flegmann passed away shortly before the first bottles of Flegmann wine made it to the American shores, but he had tasted the wine and seen the labels and knew that the project was coming to fruition. Today, we, his children and grandchildren, are following in his footsteps and are committed to continue producing exceptional wine with our family name.
Our original labels in 2006 featured a picture of the historic Mad Synogogue. This shul was built by our great-great-great-great-grandfather, and six generations of Flegmanns had their bar mitzvas in the shul, including our father. We actually went back to the shul for one grandson (Shmuli Flegmann's) bar mitzva in 2001. In the year of their introduction to the market, our Cabernet Sauvignon was chosen by Time Out New York as one of four "Seder-worthy wines" and  received a 90 point rating at the Beverage Tasting Institute, and our Merlot won a silver medal. Today, our 2018 Cabernet Sauvignon and Red Reserve have received high accolades and are in high demand as well. Our new labels feature a picture of our father walking through the Flegmann vineyards, actually taken at Shmuli's bar mitzva. You can see his warm and nostalgic smile as he returned to familiar surroundings.
We invite you to sample a small taste of history with every sip and, when you do, please make a "L'chaim" to Dovid Ben Moshe who is certainly smiling from above. Treat yourself to a bottle to celebrate this Purim holiday! You will be thrilled you did…
Flegmann Wine is distributed by Royal Wines and is sold in the finest wine stores.
Our father at the entrance to his town in Hungary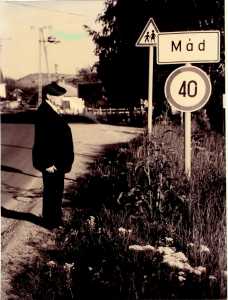 At Shmuli Flegmann's bar mitzva in the Mad synogogue
The Rav in Mad who enjoyed Flegmann wine for his arba kosos
Mr. Tibor Flegmann on his return to the Flegmann vineyards
Our father back "at home"
The original label
Our new label