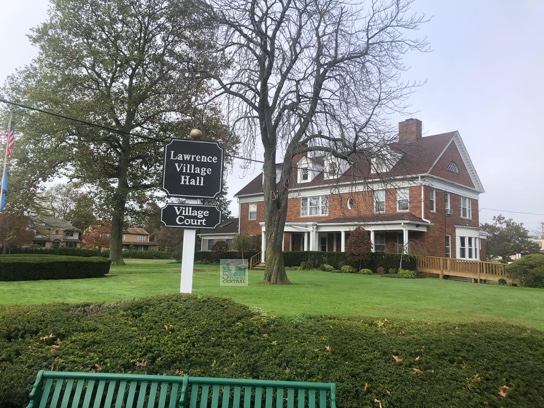 Dear Resident and Neighbor:
In addition to its effect. individuals and institutions, the Covid-19 epidemic has impacted the Village of Lawrence in several ways. While there was no reduction in Village Services, the Village did suffer the loss of several residents whose families continue to receive our deepest sympathies.
Covid-19 also delayed the 2020 Village elections and thus the new administration did not take office until mid-September. Despite the postponement, however, the unprecedented enthusiasm and involvement of our two new Trustees, Paris Popack and Eli Kutner and that of our newly appointed Deputy Mayor Jeff Landy, along with Trustee Michael Fragin, have produced a series of accomplishments that leave every facet of the Village of Lawrence in a positive state:
Financially the Village is in an outstanding position. Taxes have not been raised and the Village enjoys fiscal stability as it remains current with all New York State Comptroller requirements. While Covid-19 caused a temporary reduction in revenue, $334,837.00 has already been recovered in Federal funds with an additional $335,000.00 due next year. Most significantly, a decade-old dispute with Nassau County has been settled with a return to the Village of $6.7 million dollars. Simultaneously, the decision to sell the 3.6 acres of the decommissioned water treatment plant for the construction of single-family homes has yielded $8.5 million dollars while preserving the integrity of our residential community.
Though these substantial amounts are a boon to the Village and allow us to plan for the future, efforts continue to lower expenses and payroll (due to retirements) while maintaining staff and increasing services. The Tax Department, ever attentive to new revenue sources, has modernized with on-line tax payments that have improved office efficiency and taxpayer convenience.
Beyond fiscal responsibility, the Village recognizes that its primary obligation is to provide its residents with a superior standard of government service:
Of major concern to everyone has been the condition of not just Village Roadways, but those of the County that directly affect the safety of our residents. Repeated pressure on County officials has resulted in improvements to Broadway, Rockaway Turnpike and Meadow Drive. Meanwhile, after procuring necessary gas and water main upgrades, the Village has successfully repaved the curbs and streets on Amberly Road, Auerbach Lane, Barrett Road, Briarwood Lane, Chestney Road, Hawthome Lane, Jorgen Street, Main Street, Manor Lane, Ventana Court and Weston Place. Scheduled to begin shortly under the direct supervision of our recently contracted Village Engineer, is roadwork on Briarwood Crossing (Barrett to Ocean Avenue) Heather Lane, Winchester Place, Cumberland Place, Richmond Place, Lord Avenue (Cumberland to Central), Beach Second Street, Martin Lane, Mann Place, Merrall Drive and Arrowhead Lane.
While the Village focuses on the physical status of its own roads and those adjacent to it, it is equally sensitive to their viability as traffic congestion increasingly threatens our quality of life. Toward that end, meetings are being arranged with Nassau County and New York City Department of Transportation representatives to modify the traffic signal devices along Rockaway Turnpike in an attempt to facilitate traffic flow. Though outside our jurisdiction, special attention is being given to the potential negative impact the placement of an Amazon Distribution Center may have on our community. So too, the Village is monitoring Hempstead Town's "Transit Hubs" in North Lawrence and Inwood, and continues to oppose the Woodmere Club's "Sixth Town" and the Cedarburst Pearsall Development Project as currently proposed.
The Highway Department, under the spirited and experienced leadership of our newly assigned Superintendent and Assistant Superintendent, immediately responds to reports of potholes, fallen tree limbs and other emergencies while a new, modern street-sweeper has been ordered to ensure that Village streets remain free of litter and debris. Though this past "snow season" was brief, it was nevertheless intense, as Village roads were plowed and cleared rapidly and effectively with both equipment and materials already being prepared for the coming season.
In response to community reports of walkway obstruction, dangerous overhanging trees and intrusive hedges and shrubs endangering pedestrian traffic, numerous notices-of-violation and summonses have been issued by the Building Department which has also, beyond processing a record number of building permits and inspections, concentrated on the repair and replacement of more than 300 sidewalk flags in coordination with the responsible property owners. This enforcement is in conjunction with the Village's tree trimming and electric contractors as well as PSEG which we insist must maintain its poles and any trees near wires. Early commencement of environmentally safe pest control as well as distribution of mosquito-trap bags and 90 plus specifically sited fly traps, resulted in a substantial reduction of the Village's flying insect problem as did the placement in ponds of additional, more powerful pumps/fountains.
Yet another area of increased resident interest is that of Public Safety and Security. In response to a small but disconcerting uptick in thefts from (unlocked) cars as well as package thefts from unsecured porches, the Village, with # $77,500.00 grant from County Legislators Howard Kopel and Denise Ford, as well as $81,500.00 from Village funds will be procuring fifteen security cameras for placement at specific locations throughout the Village. This is in addition to fencing and gates at key spots (including portions of the Lawrence parking lot at the Inwood train station) and the rapid repair of non-working street lights as well as working with State officials to finally resolve the street light situation along Route 878. Additionally, on an experimental basis, the Village will be retaining the services of a private security firm to augment regular police and auxiliary police patrols during the night-time hours. Consideration is being given to the re establishment of a Neighborhood Watch as well as a crime prevention campaign to
urge residents to lock their vehicles, secure their premises and report any unlawful activity to the police. To protect walkers and joggers, Safety-Visibility-Belts will again be distributed this Fall to all residents and will be available at Village Hall.
We do the above while continuing to maintain a close, personal relationship with the Auxiliary Police, the Commander and staff of our 4th Precinct and the Office of Police Commissioner Patrick Ryder whom the Village has enthusiastically supported publicly and on whose Community Council a Village. staff member is an active participant.
Noting that recent New York State legislation has legalized the public possession and use of marijuana, the Village of Lawrence has availed itself of its right to "Opt-Out" and not allow any establishment that sells or carries cannabis to operate within the Village. Furthermore, a local law has been enacted which forbids (except in designated areas) the smoking of any device (including cannabis) in any public location within the Village. This action is consistent with that taken by the Town of Hempstead and neighboring villages, and reflects the will of the vast majority of our citizens.
This past year saw major advances in flood mitigation as dry wells were installed on Waverly Place, sections of storm drain pipe were replaced in Sutton Park and 150 feet of bulkhead were reinforced with new concrete blocks. The long-anticipated New York State-financed $8.5 million "New York Rising" program, designed to address flooding on Kenridge Road, Meadow Lane, Muriel Avenue, Margaret Avenue, Monroe Street, Harrison Street, North Street, Causeway, Bayberry Road and Barrett Road, is scheduled to finally begin on site this Fall. The Lawrence Department of Public Works, utilizing a vacu-track and cameras, regularly maintains our extensive network of water basins and drains, and recently completed repairs to the Isle of Wight dike.
As the Covid-19 epidemic has drawn more citizens with younger children outdoors, attention has been directed to a dramatic beautification, reshaping and modernization of Zion Memorial Park. Additional age-appropriate playground equipment has been ordered and the grounds will be refurbished. Hanging flower pots now line Central Avenue and aging Village trees (and those lifting sidewalks) as well as signage are being replaced on a regular basis.
The Business District is being incorporated into the beautification process as seven new stores have opened on Central Avenue and the buildings that house : them are renovated. i restored. Outdoor dining, which continues to be popular, will be a permanent feature on Central Avenue and the restaurant to be located: inside the Lawrence Train Station promises to open soon. As it has through its participation in the rejuvenated Memorial Day Parade, the Lawrence Business Association will attempt to escape the dormancy caused by Covid-19 and, together with Village government, will seek to become a viable component of our Village.
The Lawrence Yacht and Country Club continues to deserve the title "Jewel of Lawrence" as the golf course has been enhanced by a new irrigation system, 80 new golf carts are being ordered, and the tennis courts' flooding problems were reduced by being connected to golf's water system and receiving new sprinkler heads. Tennis also received new furnishings as it successfully hosted the breast cancer awareness Play r Pink which featured a first-ever men's championship. Besides night tennis and an extended season, thought is also being given to the placement of a year-round tennis bubble. With membership at record levels and an increased number of tournaments, golf and tennis join the marina and our caterers in making the LY&CC the area's premier recreational facility of which every resident can be proud.
During the toughest times of the Covid-19 pandemie, our Village was buoyed by the informative updates of resident immunologist and County Emergency Management Liaison, Dr. Marc Sicklick. This is but one example of how in every component of Village life, we continue to be supported by the volunteer residents who share their time, resources and experience as they serve as members of the Board of Trustees, the Park Commission, the Zoning, Planning. Building Design and Beautification Boards, the Court, Historian and TVASNAC. Of course, all these unselfish, talented folks are reinforced by our dedicated, professional and loyal Village employees who are unmatched in their service and devotion.
This has indeed been a tough year, but the Village of Lawrence, its government, staff and residents have proven to be resilient and just as tough. Together we held it together with the resources, talents and unique character that make the Incorporated Village of Lawrence so very, very special
I thank you for allowing me to be part of this wonderful community we all call home.
Sincerely,
Alex Edelman