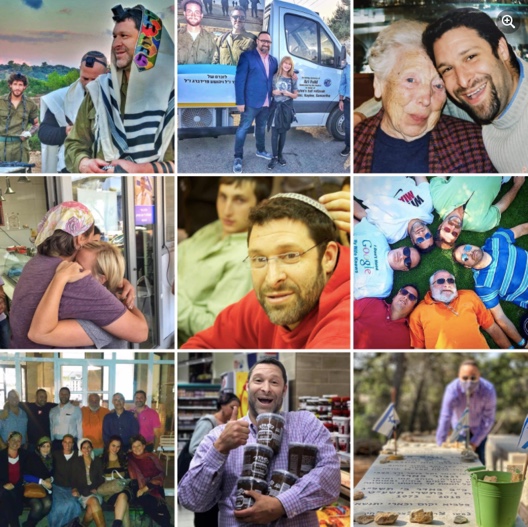 That terrorist didn't just take Ari from us. He took love. So much love. Ari was walking passion. The things that Ari loved so much and ultimately gave his life for:
***The IDF***
I know Zionism has turned into a dirty word in some circles, but Ari came to Israel, volunteered for the IDF, climbed up the ranks, and even when he got his discharge papers, he ripped them up and continued to serve.
And if that wasn't enough, the man traveled throughout our little country to put smiles on the faces of IDF Soldiers. In that first picture, you see him praying with his army friends. In the second picture, you see the truck that my friends the Hallers dedicated in Ari's memory. Thank you Dani and Riki Haller. Thank you Leon and Susan Haller for raising such incredible children.
That truck travels from army base to army base making sure soldiers have what they need. Ari was a proud Zionist through and through.
***Karate***
Ari was a 4th degree black belt and his dedication to karate was inspiring to watch. After decades of training, he was a real master. I wouldn't believe it if I didn't see it with my own eyes, but Ari was famous for breaking massive cinder blocks by basically just touching them. He called it a soft break. I called it "What the heck just happened?"
In that third picture, not sure where it was taken, you see Ari in his karate sweatshirt.
***The Jewish People***
In that 4th picture you see Ari and grandma embracing. Grandma survived Aushwitz and at the age of 88, moved to Israel alone. Ari and grandma had a really special relationship because when he came here to Israel before us, he stayed by her a lot. They had a really unique bond. Two heroes.
That 5th picture? The heroic Miriam, Ari's incredible wife hugging Hilla, the woman Ari saved in his last breath.
After the terrorist fatally stabbed Ari, he was looking for his next victim. Hilla has a falafel store a few feet away. The terrorist identified her and was running toward her. Ari, with no blood in his veins, chased him down, shot him, and saved Hilla's life.
She has since become a part of our family. Ari loved our little nation.
***His Family***
The 6th picture speaks for itself. All the Fuld boys. The 7th picture is all of us. Ari loved his family so much and when I asked my 10 year old twins on Rosh Hashanah whether they remembered Ari, they looked at me like I fell off of Mars.
"Of course we remember him."
"What do you remember?"
"He loved playing with us and being silly."
"Yep. He did."
***Life***
Finally, Ari loved life. In that 8th picture, you see a typical Ari face with him goofing around. The man lived every day like it was his last. He had a real love of life.
By the way; the story behind that picture? He was buying products that the BDSers boycotted. He bought them and donated most of them afterward.
The last picture speaks for itself. Me saying goodbye to Ari at his grave. I'm sure he misses us all, and I know we do, but I, for one, take a tiny bit of comfort knowing that Ari is buried in the place he loved so much, Israel in general, and Gush Etzion specifically.
The Israeli flags on his tombstone are where they belong.
Ari lived like a hero and died like a hero. Can't imagine what my grandparents would have said knowing that their grandson was named a National hero by the state of Israel.
But we don't just miss him, we miss his love and passion for everything he did.
That's my big takeaway from my older bro: Love.