The NYS Education Department, confirmed, Tuesday, that the 'US History Regents Exam' was cancelled over concerns that students in Buffalo and around the state, will find the test's content, "traumatic."
See the full statement from NYSED below: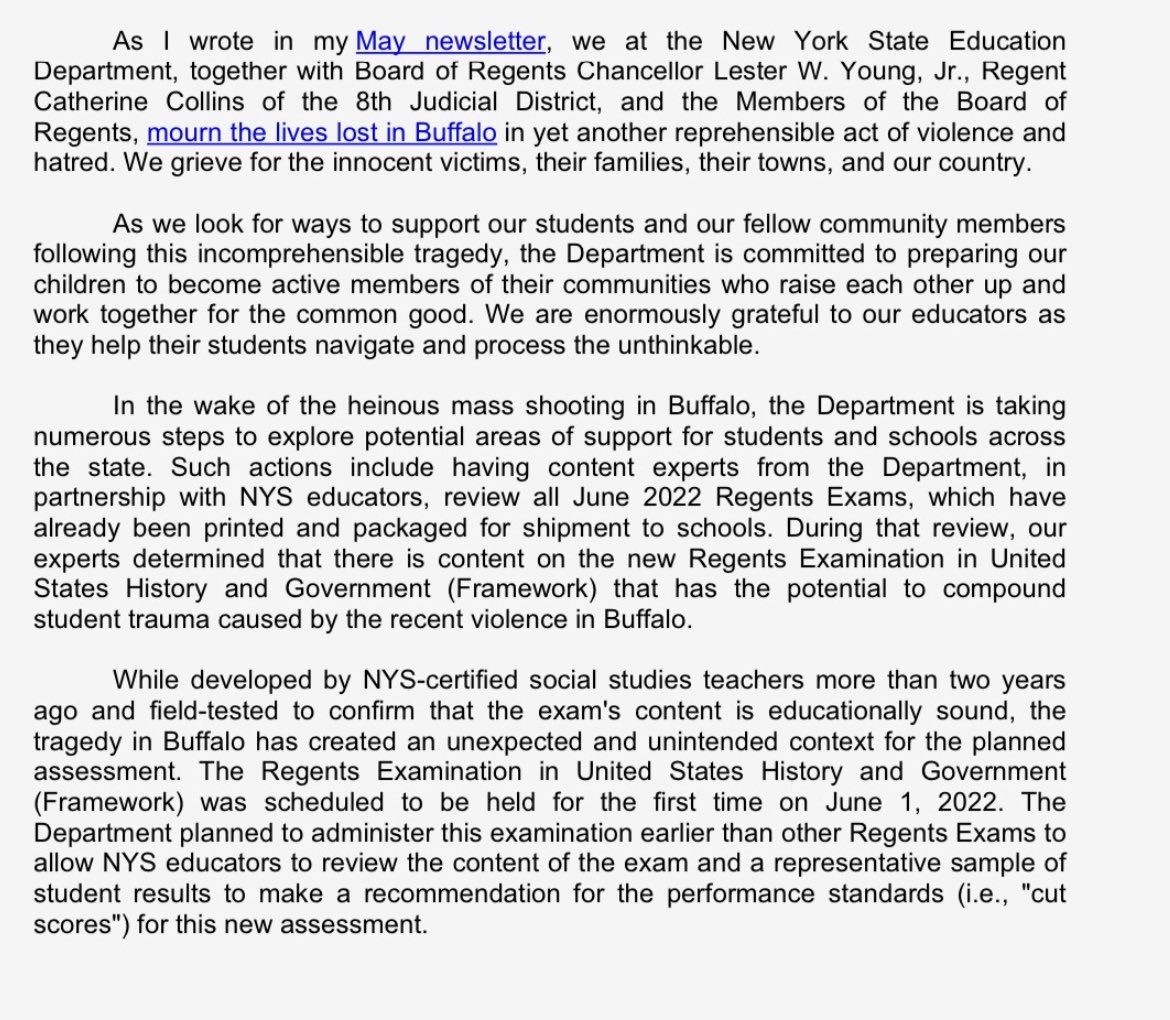 This is big news in itself & also leads directly to a larger question about standardized tests & what traumatic content is often simplified into multiple choice & essay questions for mere points to graduate as well as the overall racist nature of standardized tests in general!

— Sari Beth Rosenberg (@saribethrose) May 24, 2022
Just this past Friday, May 20th, the Commissioner had sent the following letter to all colleagues:
Dear Colleagues,
Commissioner Rosa
We at the New York State Education Department, together with Board of Regents Chancellor Lester W. Young, Jr., Regent Catherine Collins of the 8th Judicial District, and the Members of the Board of Regents, mourn the lives lost in Buffalo in yet another reprehensible act of violence and hatred. We grieve for the innocent victims, their families, their towns, and our country. We will never be able to solve our issues by using violence.
This moment is an opportunity to reaffirm our collective resolve to empower students to be informed citizens through education. As parents, caregivers, and educators, it is our responsibility to teach and model respect, fairness, open-mindedness, and inclusiveness. We must teach our children that in America, goodness and compassion will always triumph over ignorance and hatred. And our goal is to prepare our children to become active members of their communities who raise each other up and work together for the common good.
New York has exceptional educators who show unwavering dedication to their students, and we would like to extend special recognition and gratitude to our educators in Buffalo this week as they help their students navigate and process the unthinkable. Your work is important and unrelenting, and your efforts are nothing short of heroic.
Sincerely,
Betty A. Rosa
Commissioner