Work Beginning This Week Will Create Two New Plazas, Shared Streets, and Two-Way Bike Lane on Broadway Between West 25th Street and West 32nd Street
Project Delivers on Commitments in Mayor Adams' State of the City Address and "Making New York Work for Everyone" Action Plan
NEW YORK – New York City Mayor Eric Adams and New York City Department of Transportation (DOT) Commissioner Ydanis Rodriguez today kicked off construction on a new phase of the administration's "Broadway Vision" plan, which will create new public spaces and make streets safer between Madison Square and Herald Square in Manhattan. This phase of the plan will deliver two new plazas, shared streets, and a two-way bike lane on Broadway from West 25th Street to West 32nd Street. The subsequent phase will deliver permanent capital improvements along Broadway from West 21st Street to West 33rd Street.
The work beginning this week marks a new phase in the Adams administration's comprehensive Broadway Vision plan to create safe, vibrant public spaces along Broadway from Union Square to Columbus Circle. This phase of the project delivers on a portion of the $375 million commitment to create new public spaces from Mayor Adams' State of the City address less than two months ago and follows an initiative in Mayor Adams and New York Governor Kathy Hochul's "New New York" action plan.
"Two years ago, the pandemic devastated Midtown and our business districts, but it gave us the opportunity to reimagine our public spaces," said Mayor Adams. "Beginning this week, our Broadway Vision will come to life with vibrant, new public spaces and safer streets from Madison Square to Herald Square. Midtown is back, and New York City is back."
"Broadway Vision is one of the most significant public space transformations in the heart of Manhattan. It will improve quality of life and traffic safety, while boosting foot traffic, which is key to our city's economic recovery," said Deputy Mayor for Operations Meera Joshi. "I thank the creative and hardworking team at DOT for turning this 'vision' into a concrete reality."
"I am excited that work is getting underway to give more space along this iconic corridor to pedestrians and cyclists," said DOT Commissioner Rodriguez. "Through our Broadway Vision plan, DOT is creating a people-first Broadway, connecting from Union Square to Columbus Circle, and we look forward to redesigning the next section between Madison Square and Herald Square. This effort will not only further reduce reliance on vehicles and support safe, sustainable transportation, but will also improve our quality of life, bolster our economy, and protect our environment."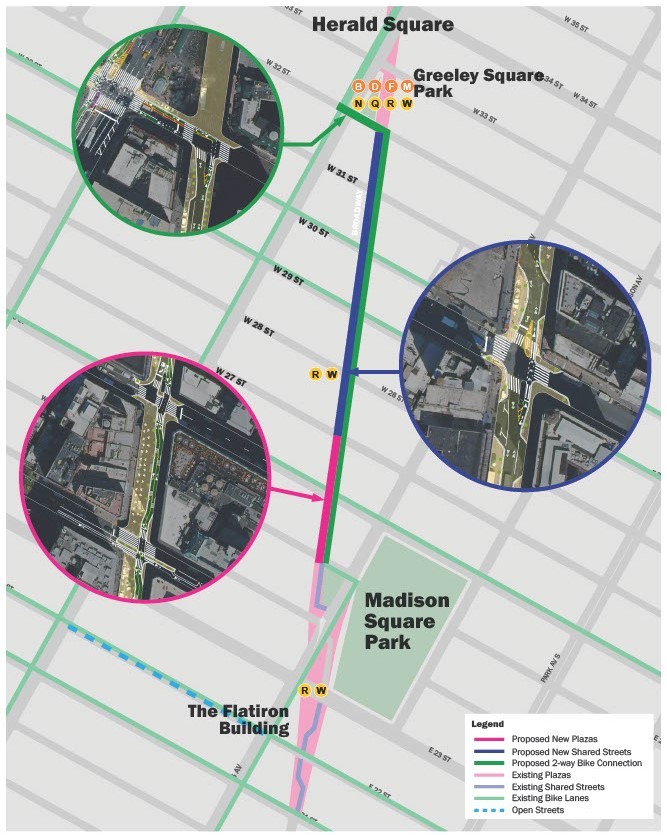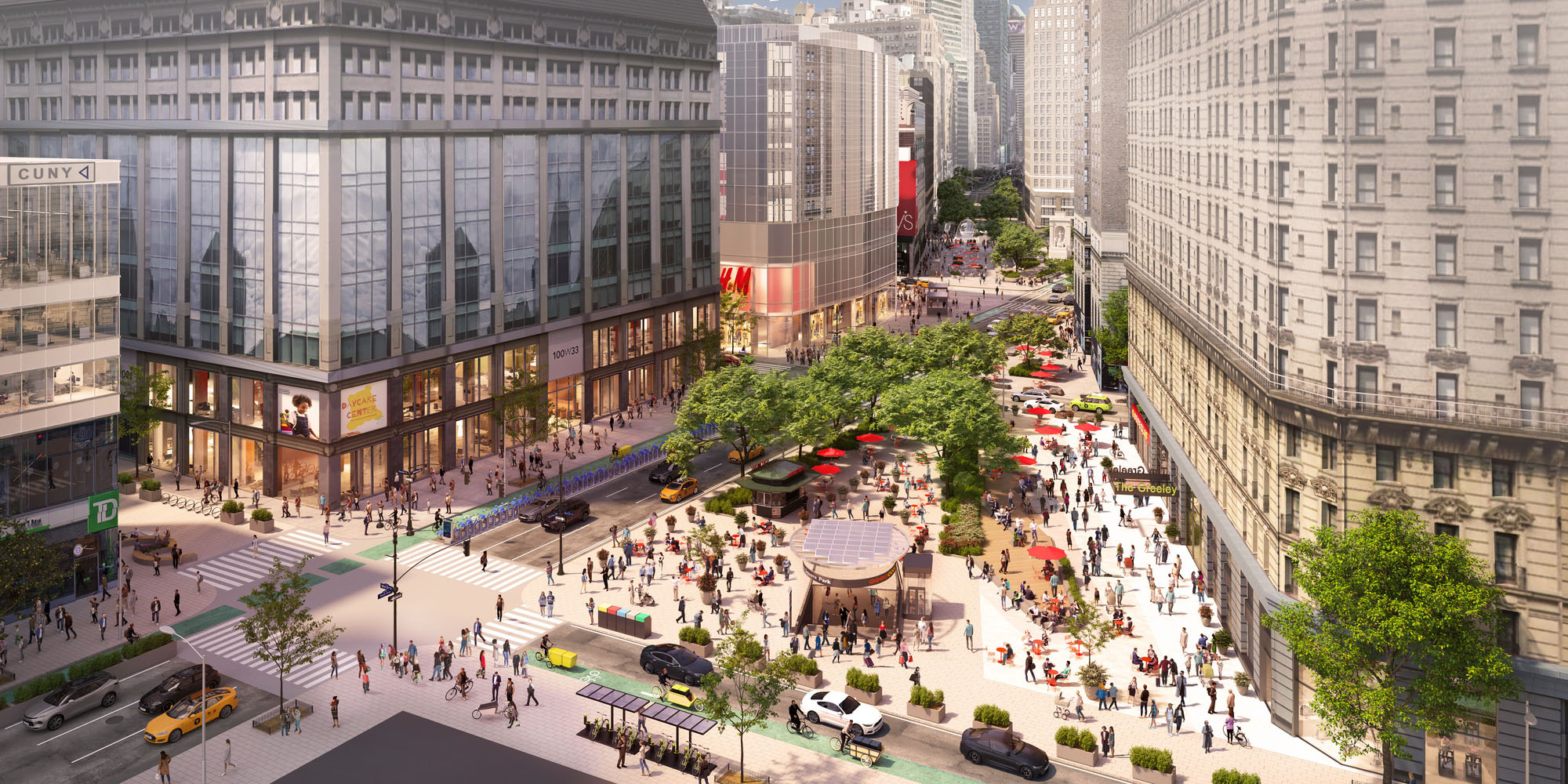 Once repaved, the street will include several traffic-calming treatments and public space enhancements, including:
Plazas between 25th Street and 26th Street and between 26th Street and 27th Street;
Curb extensions and narrower turns to calm traffic;
Shortened crossings and wider crosswalks to enhance pedestrian safety;
Two-way bike boulevard treatments, along with related signage and signals;
Reconfigured curb lanes to facilitate loading and pickups/drop offs; and
Additional public space and cycling amenities like seating, planters, new Citi Bike docks, and additional bike parking.
In partnership with the Flatiron NoMad Partnership, the city will permit outdoor dining at restaurants in the plaza areas between 25th Street and 27th Street.
Milling and paving work will take place over the coming several months with markings, signage installation, and signal work, as well as the addition of planters and street furniture. The project is expected to be completed this summer, with capital improvements to follow. Emergency access will be maintained throughout the corridor during the entire duration of the project and after it is completed.
"Public spaces are vital to New Yorkers' quality of life and our city's economic vitality, and the Broadway Vision plan is another key element of the public realm strategy called for in the 'New' New York plan," said New York City Economic Development Corporation President and CEO Andrew Kimball. "Broadway Vision will catalyze the effort to revitalize Midtown as a thriving live, work, and play district, and I look forward to working with the mayor, the Department of Transportation, and the community to make this vision a reality."
"'Making New York Work for Everyone' recommended creating a world-class network of public space in Midtown, as part of reimagining New York City's business districts as vibrant, 24/7 live-work-play destinations," said "New" New York Panel Executive Director Julie Stein. "The dramatic improvements of the Broadway Vision plan will transform this critical corridor into a grand promenade connecting Madison Square to Herald Square. It will help make the district more attractive as a residential neighborhood, safer and more inviting for commuters, and more functional for workers who highly value open area spaces in their office neighborhoods."
"For too long, our city has been dominated by cars and treated pedestrians as second-class citizens," said U.S. Representative Jerrold Nadler. "That cannot continue, and it's one of the many reasons why we need congestion pricing and why I applaud Mayor Adams and Commissioner Rodriguez of the New York City Department of Transportation for listening to city residents and expanding the pedestrian space with this Broadway Vision plan. While closing Broadway to car traffic years ago was a revolutionary idea, we know it worked to enhance pedestrian and traffic safety. This vision plan creates shared public spaces, prioritizes pedestrians, and calms traffic, which is better for our residents and our city."
"Mayor Adams' Broadway Vision is an ambitious reimagining of Broadway from Union Square to Columbus Circle that takes into account the needs of all road users," said New York State Assemblymember Jenifer Rajkumar. "The implementation of traffic-calming measures, shared streets, bike lanes, and public plazas will make the corridor the safest and most pedestrian-friendly it has ever been. Across the five boroughs, Mayor Adams and Commissioner Rodriguez are transforming our streets to fully integrate safety and usability for all New Yorkers. I look forward to continuing to partner with them to improve streets across our city."
"The future of Manhattan must include improving our streetscapes and re-envisioning how New Yorkers interact with our streets, and Broadway presents us with a perfect opportunity to create more space for people," said Manhattan Borough President Mark Levine. "The Broadway Vision plan is a strong step toward a future where all New Yorkers — pedestrians, cyclists, micro-mobility users, motorists, and more — are able to travel safely. I applaud the mayor and Commissioner Rodriguez for kicking off the new phase of this plan and look forward to a future where Broadway from Union Square to Columbus Circle better suits the needs of all New Yorkers."
"Broadway is an iconic part of New York City, and its well-being is critical to the health and vibrancy of our neighborhoods," said New York City Councilmember Carlina Rivera. "For many years, advocates have been working to make Broadway safer for all users and expand opportunities for gathering and recreation. As the city continues to experience persistent traffic-related serious injuries and fatalities, initiatives like Broadway Vision are imperative to centering safety and accessibility. I commend Mayor Adams' continued commitment to improving safety on Broadway. We must continue to expand open space, improve bike, bus, and subway infrastructure, reduce the amount of cars on the street, incentivize multi-modal transportation, and make choices that improve accessibility and quality of life."
"I applaud the mayor for keeping his State of the City promise," said New York City Councilmember Rita Joseph. "This new phase of Broadway Vision is a great step in the right direction toward improving our public spaces, enhancing pedestrian safety, and making our city friendlier to bikers."
"People travel from around the world to walk on Broadway but all too often are confined to narrow, crowded sidewalks," said New York City Council Majority Leader Keith Powers. "I am pleased to see the rollout of the Broadway Vision program, which will create additional public space for pedestrians and cyclists. We deserve a Broadway built for everyone and that allows us to truly enjoy this world-famous street."
"We are excited to join Mayor Adams, Commissioner Rodriguez, and Chief Public Realm Officer Liu in launching this new phase of Broadway Vision, as part of our reimagining of the public realm in Flatiron and NoMad to prioritize New Yorkers' well-being and our district's economic and cultural vitality," said James Mettham, president, Flatiron NoMad Partnership. "Building on our successful NoMad Piazza pilot and principles recommended by the 'New New York' panel, these improvements will complete the pedestrian-focused Broadway corridor through our district, enhancing the experiences of residents, commuters, and visitors. In addition, the mayor's commitment to the capital reconstruction of the Flatiron Public Plazas and Worth Square allows us to move forward with our city partners, the Madison Square Park Conservancy, and community members to dramatically upgrade these iconic spaces in the heart of Manhattan."
"Today's announcement is another important step towards reimagining what urban public space can be," said Holly Leicht, executive director, Madison Square Park Conservancy. "There's no question that we, as a community and a city, must innovate to make New York a more livable city. This includes more public green spaces like Madison Square Park, as well as safe, open streets with pedestrian- and bike-friendly infrastructure. Thanks to the Adams administration for championing this forward-looking initiative, and we look forward to working together to permanently redefine our neighborhood's streets, sidewalks, and plazas."
"The history of New York City has always included the reimagination of this city, and this initiative reflects that tradition," said Wallace Ford II, "New" New York panelist and associate professor, Medgar Evers College of The City University of New York.
"Expanding New York City's public spaces and making our streets safer for pedestrians and cyclists is how we can ensure our neighborhoods continue to thrive," said Regina Myer, "New" New York panelist and president, Downtown Brooklyn Partnership. "Investments such as the Broadway Vision plan show us how we can transform our traditional business districts into vibrant 24/7 destinations. We applaud Mayor Adams and his administration for starting work on this exciting phase in reimagining our city's public realm."
"We are grateful that Mayor Eric Adams and Commissioner Ydanis Rodriguez have begun work to realize the Broadway Vision for safer streets and a better public realm," said Maulin Mehta, New York director, Regional Plan Association. "As we discuss in our 'Re-Envisioning the Right-of-Way' and 'Future of Open Dining' reports, coordinating the various needs on our streets for economic activity, health, environmental sustainability, and recreation requires resources and courage to change our city for the better. We look forward to working with our city partners to make this project a success and serve as a model for other parts of our city and region."
"We are thrilled to see DOT's Broadway Vision project moving forward," said Renae Reynolds, executive director, Tri-State Transportation Campaign. "Broadway is the spine of Manhattan and connects some of its most popular public spaces. But for too long, the roadway design has prioritized motor vehicle throughput — exposing vulnerable road users to traffic violence and forcing street life onto overcrowded sidewalks. These new, traffic-calming redesigns will slow vehicles and expand the public realm — creating a safer, more inviting, and more accessible Broadway for all."
"We are thrilled to see construction kicking off on this section of Broadway Vision, and we commend Mayor Adams and Commissioner Rodriguez for prioritizing safety and quality of life on New York City's great thoroughfare," said Alia Soomro, deputy director of New York City policy, New York League of Conservation Voters. "Public space, safer intersections, reduced traffic — when this project is finished, Broadway will be friendlier to pedestrians and clean transportation modes like bicycles and scooters. That's a win for New Yorkers and for the environment."
"AIA New York is pleased to see further implementation of the Broadway Visions plan," said Jesse Lazar, interim executive director, New York chapter, American Institute of Architects (AIA). "These well-designed efforts to prioritize alternative transportation, dining, open space, and pedestrian safety in the public realm are critical to the well-being of all New Yorkers."
"We're very excited to see the next phase in Broadway's transformation get underway this weekend," said Eric McClure, executive director, StreetsPAC. "Broadway has become a sterling example of what happens when we balance the uses on a city street, equitably sharing space among people walking, cycling, shopping, dining, and driving. It improves safety, accessibility, the local economy, and overall quality of life. We look forward to 'Broadway Vision' becoming the vision for all of New York City."
"We're excited that several blocks of Broadway will be redesigned to prioritize and protect bike riders and pedestrians," said Elizabeth Adams, senior director of advocacy and organizing, Transportation Alternatives. "New York City's public spaces should serve all New Yorkers, not just drivers. This announcement is a key step towards realizing our goal of converting 25 percent of city streets into streets for people, and we will continue to fight for a fully-pedestrianized Broadway."